Slide
Geolantis.360TM Collector Suite
Geolantis.360TM Management Portal
Project management
Configure data capture catalogues including attributes & picklists
Data collection review
Sketches
Data export & sharing
Dashboards
User management
Scheduler
Geolantis.360TM Mobile App
Geolantis.360 Android app
Connected to Trimble Catalyst DA1
Map centric data collection
Different base map options
Data capture catalogue
Attribute data entry
Photos and notes
Direct quality check
Automatic sync to backend
Slide
"Our mission is to promote a more effective communication between the office and the field."
Michael Pegam, Geolantis.360TM Sales Director
Geolantis.360TM Web Portal
Slide
Define data collection template
Create feature classes
Define graphical representation
Define attributes including mandatory fields
Define pick lists
Option to group feature classes logically
Slide
Create a project and add details
Define work area
Define project owner
Define high precision transformation set
Add custom attributes
Select data capture template
Set accuracy requirements
Slide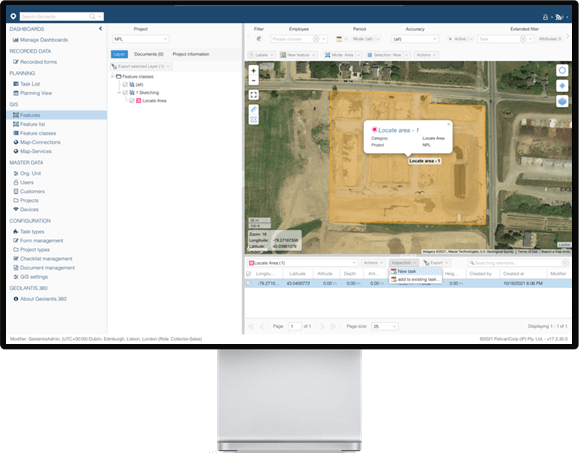 Define the locate / work area
Upload existing data sets
Uploading PDF documents
Link WMS & WFS links
Upload georeferenced aerials imagery
Assign task to the field worker
Slide
Review acquired data
Filter by location, field user, asset type, date,…
Add offset measurements
Export data to GIS & CAD
Create PDF reports
Slide
Review & Share
Google Earth

Export data to Google Earth
Share data with team and externals
View in 3D
Layer filters
Access attributes
View Photos
Slide
Visualize in Google StreetView
See asset location
Layer filters
Slide
Geolantis shares live data through WFS to 3rd party apps
Access data in real-time
Collected utilities
–  Water
–  Gas
–  Electricity
–  Telecommunication
–  etc...
Slide
Form Based Reports
Inspection Reports
Map Reports
Pothole Reports
Slide
The mobile apps are GNSS (GPS) centric asset collection tools which give field workers access to existing infrastructure, different sorts of background maps, attributive info and documents. You'll be able to map asset data without surveying knowledge. Geolantis360 allows you to capture the asset location and its attributes, besides taking geo-referenced photos.
Excellent maps paired with precise GPS locations allow data to be captured in a fast and efficient way. It gives the fieldworker full visibility of existing assets. Boost your field crew's efficiency.
Geolantis360 ensures data accuracy, quality and integrity. The software stores all sensor information, software settings and actions for every single measured coordinate. Understand how data has been collected!
Accurate asset data collection, including notes & photo documentation paired with automatic cloud synchronisation. Eliminate any media breaks. Go fully paperless!
Scalable – Enterprise-grade
It doesn't matter if you have a small or big team, Geolantis360 works for everyone who wants to manage field crews and projects. It's time to replace multiple services and apps with ONE powerful solution!
Slide
Slide
Bruce Baker
Utility Mapping - Australia
"Geolantis.360TM is the only platform that aligns with our philosophy of data management, process planning and operational management – a case of GIS meets ERP. It gives us the ability to manage more with less."
Georges Majerus
LuxConnect - Luxemburg
"One of our most important tasks is to document our fiber network as accurate as possible. The cloud-based Geolantis.360TM app leveraging precise GNSS is highly accurate and we rely on it every day to document our valuable assets. Their customer service is second to none. Geolantis is a game-changer for us."